From a Tribute to Celebrating Cambodian Women in "Pikthi Katt Khann Sla" in Khmer Wedding Ceremony
Following the matriarchal custom, a Khmer wedding ceremony is conducted at the home of the bride. Traditionally spreading across three days in relation with the Three Jewels in Buddhism, "Chaul Raung"(Day of Entering the Wedding Hall) occurs on Day-1, followed by "Haèr Chom-noon"(Day of the Groom's Parade) along with several other rituals, and to end on last day with "Sotr Muonn"(Religious ceremony and Benediction by Buddhist monks). Nowadays, the wedding ceremonies are mostly shortened into one day, and only the essential rituals and ceremonies are being performed to keep the essence of a traditional Khmer wedding.(*)

"Khann Sla": As the name suggests ("areca nut / cup"), originally this object was to be a hemispheric cup, probably made of metal, containing an ornamental arrangement of areca nuts or a set of betel nut "chiques" preparations. Khann Slais synonymous with marriage, that is, the object is the symbol of the ceremony. It is said pejoratively of a couple that it is "without Khann Sla", when the bonds have not been sanctioned by marriage. The expression is still in place. Not only does it take place, but one of the rites of marriage is called "Katt Khann Sla", "fixing the price of the cup of areca", which is to ritually fix the price of breast milk that fed the bride, which is supported by a most moving dance and song. This price is therefore that of the bride. One can imagine the solemn presence of the cup (now absent or confused with other objects), symbolizing the final agreement and the "surrender" of the bride to the groom's family, so to speak. (**)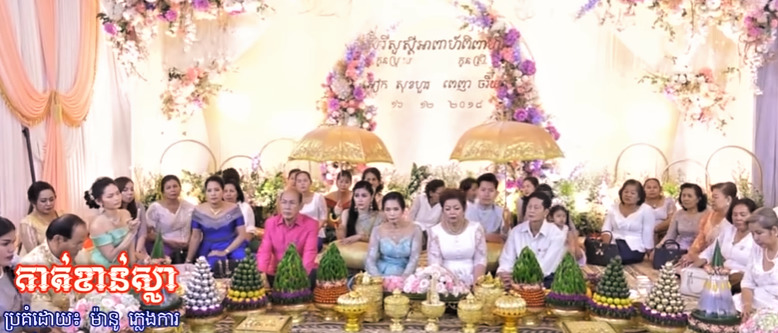 "Katt Khann Sla" (fixing the price of the cup of areca) aka "Jeav Khann Sla" (buying the cup of areca nuts) is being commonly translated as "holding umbrellas over parents". This extremely moving ceremony honors and thanks the couple's parents by reversing their roles. As their parents have taken care of them over the years, now that they're marrying, it is the couple's turn to shield and take care of their parents. Fruit and sugar are being provided to the parents and golden parasols are being held over their heads (for almost a whole hour) while the MC and layman "achar" talked about responsibilities to take care of the respective parents.
A most moving part is when the singer retells and reminds of how the bride's mother recalled her dream of having Preah Èn (God Indra) bestowing her a diamond ring, and how she feared of "not being able to reach the shore" – from the still in use traditional expression "Ch'laang Tonlé" / crossing the river/lake, meaning giving birth, from how hard it was for parents to raise the children, how she watched her daughter growing into adulthood to reaching the wedding day. During this ceremony, the bride and groom sit behind their parents and hold an umbrella for them in the meaning of re-paying all the things they owe to their parents. It is definitely one of the highlighted moments of a Khmer wedding and a moving time for the bride and the groom to reflect, so they will remember and cherish this moment throughout their couple's life.
"M'phei Muoy Damleung, Dob Pi Saleung, Buon Baat" (in ancient currencies and way of settling the amount) is the cut-off price of the Khann Sla set by Khmer ancestors in wedding ceremonies

Click on above photo or the link below to listen and watch the moving Tribute to Parents, especially the Tribute to the Bride's Mother (and to all women in their many dedicating daily tasks) in the Khmer wedding ceremonyPikthi Katt Khann Sla.
If you want to explore Phnom Penh in a different way, come join our Phnom Penh Urban Tales interactive walking tour.
Sources: Photos & Texts
(*) camdevel / Le mariage cambodgien (Sakou Samoth) / Les rites du mariage khmer (1964 Mme Pich Sâl) / Le Livre du mariage khmer (1965 Nhieuk Nou)
(**) Bulletin #13 de l'AEFEK (Association d'échanges et de formation pour les études khmères) – Janvier 2008